Paratransit Riders get Tech Boost with New Sun Van App
March 16, 2022
A new mobile app is upgrading the paratransit experience for Sun Van riders in Tucson. Sun Van is one of the first paratransit agencies in the country to provide a mobile app which tracks trips in real-time. The software from Trapeze makes it easy for paratransit-eligible riders to book and track trips, check account information and receive notifications.
"This technology is going to make a positive impact on a lot of our clients," said Sun Van Assistant General Manager Shawn Mangan. "The app gives our clients more control during their transportation experience and adds a layer of convenience to booking trips."
The Sun Van app adheres to WCAG 2.0 AA criteria, which is a universal accessibility standard. Trapeze designed the app to allow commonly used screen reader technology to easily pull text, detect icons and other information.
Users can enjoy free app downloads to Apple and Android devices. Desktop access is also available at: trips.sunvan.com. Clients are encouraged to call Sun Van Reservations after downloading the app. Team members can assist with the app setup process and answer common questions.
(520) 798-1000 (TDD: 884-5100)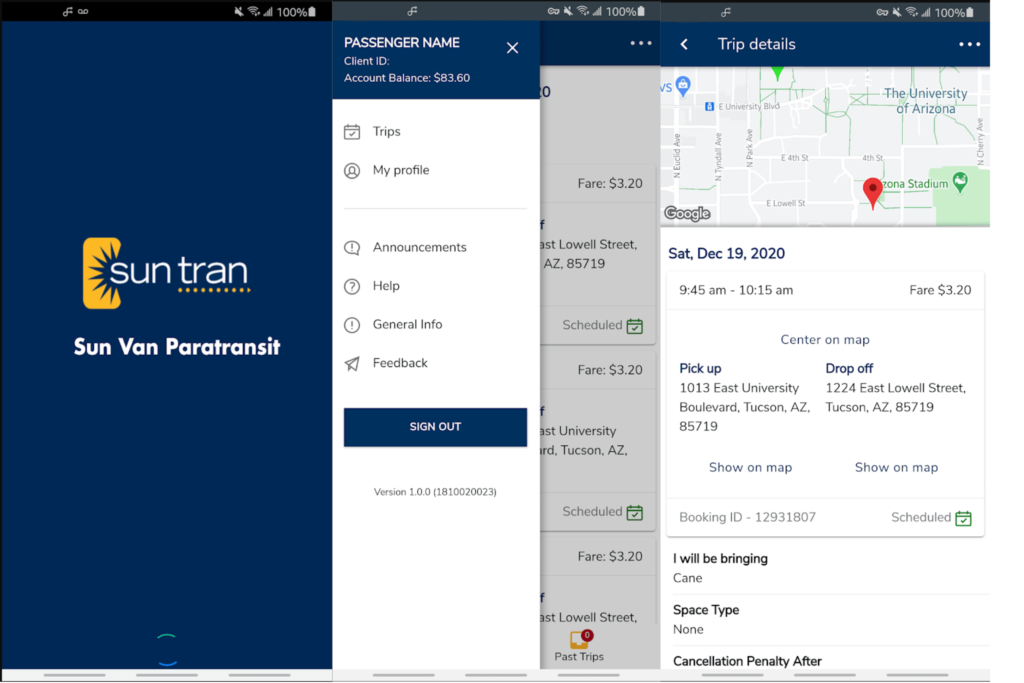 Since Sun Van offers trip times in 30-minute pickup windows, the vehicle locator is already a favorite feature for riders.
"Real-time info better informs riders about their trip so they can spend less time waiting on their ride and more time on other priorities," said Mangan. "It's a really cool way to enhance our service."
Sun Van client Amanda Parkman helped test the app and is excited to utilize the technology. She works at the University of Arizona and has been booking Sun Van trips throughout Tucson for about 12 years.
"What I appreciate most about the app is that it eliminates the need to wait outside for my ride," said Parkman. "I think people who take transportation for granted don't think about having to wait in the rain or the heat. Now I can wait inside and check the app for the vehicle arrival time."
Parkman said the app is intuitive and easy to navigate. She also appreciates being able to make a ride reservation outside of call center hours. The app is expected to complement and enhance existing Sun Van services. While the app may be the preferred method of scheduling for Parkman, other clients wishing to schedule trips with a Reservationist, or who need additional assistance, can still reach Sun Van by calling: 520-798-1000 (TDD: 884-5100).
An online video tutorial is available to familiarize users with how the platform works. Links to download the Sun Van app and to view the tutorial are posted at: suntran.com/sunvan.
Sun Van provides transportation services for individuals who are unable to ride Sun Tran because of their disability and determined eligible by the ADA paratransit eligibility office. Rides are currently free through June 30, 2022. Sun Van ridership was 287,460 in fiscal year 2021.
Los pasajeros de paratránsito obtienen impulso tecnológico con la nueva aplicación de Sun Van
Una nueva aplicación móvil está mejorando la experiencia de paratránsito para los pasajeros de Sun Van en Tucson. Sun Van es una de las primeras agencias de paratránsito del país en ofrecer una aplicación móvil que realiza un seguimiento de los viajes en tiempo real. El software de Trapeze facilita que los pasajeros elegibles para paratránsito reserven y realicen un seguimiento de los viajes, verifiquen la información de la cuenta y reciban notificaciones.
"Esta tecnología tendrá un impacto positivo en muchos de nuestros clientes", dijo Shawn Mangan, subdirector general de Sun Van. "La aplicación brinda a nuestros clientes más control durante su experiencia de transporte y agrega una capa de conveniencia para reservar viajes".
La aplicación Sun Van se adhiere a los criterios WCAG 2.0 AA, que es un estándar de accesibilidad universal. Trapeze diseñó la aplicación para permitir que la tecnología de lectura de pantalla de uso común extraiga fácilmente texto, detecte íconos y otra información.Los usuarios pueden disfrutar de descargas de aplicaciones gratuitas para dispositivos Apple y Android. El acceso de escritorio también está disponible en: trips.sunvan.com. Se recomienda a los clientes llamar a Sun Van Reservations después de descargar la aplicación. Los miembros del equipo pueden ayudar con el proceso de configuración y responder preguntas comunes.
520-798-1000 (TDD: 884-5100)
Dado que Sun Van ofrece tiempos de viaje en intervalos de recogida de 30 minutos, el localizador de vehículos ya es una característica favorita de los pasajeros.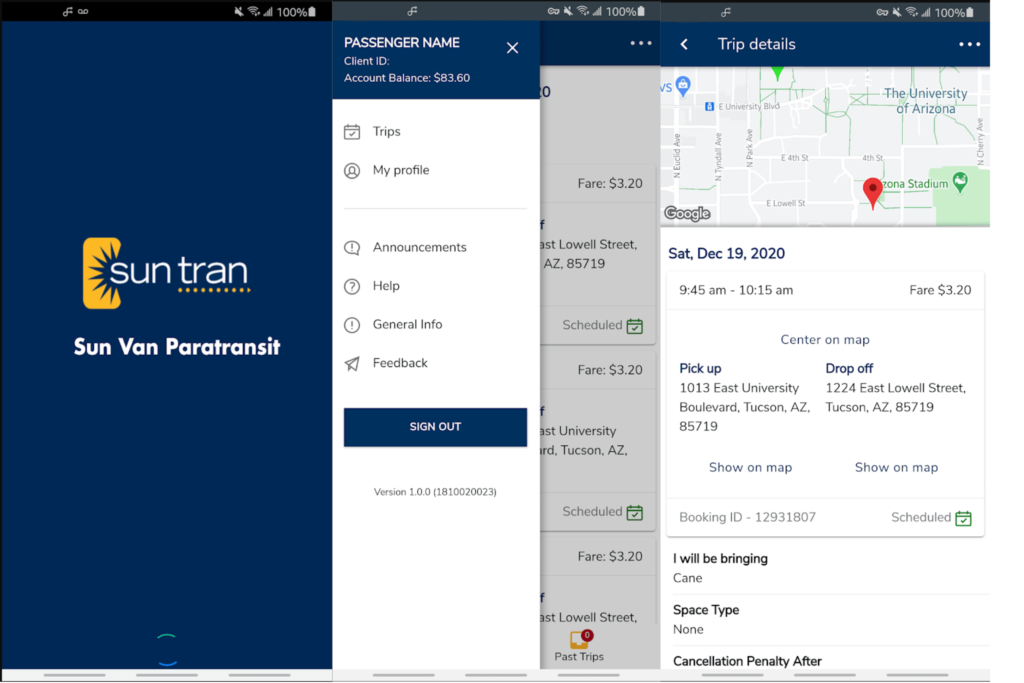 "La información en tiempo real informa mejor a los pasajeros sobre su viaje para que puedan pasar menos tiempo esperando su viaje y más tiempo en otras prioridades", dijo Mangan. "Es una manera realmente genial de mejorar nuestro servicio".
Amanda Parkman, cliente de Sun Van, ayudó a probar la aplicación y está emocionada de utilizar la tecnología. Trabaja en la Universidad de Arizona y ha reservado viajes en Sun Van por todo Tucson durante aproximadamente 12 años.
"Lo que más aprecio de la aplicación es que elimina la necesidad de esperar afuera para que me lleven", dijo Parkman. "Creo que las personas que dan por sentado el transporte no piensan en tener que esperar bajo la lluvia o el calor. Ahora puedo esperar adentro y verificar la hora de llegada del vehículo en la aplicación".
Parkman dijo que la aplicación es intuitiva y fácil de navegar. También agradece poder hacer una reserva de viaje fuera del horario del centro de llamadas.
Se espera que la aplicación complemente y mejore los servicios existentes de Sun Van. Si bien la aplicación puede ser el método preferido de programación para Parkman, otros clientes que deseen programar viajes con un encargado de reservas o que necesiten asistencia adicional, aún pueden comunicarse con Sun Van llamando al: 520-798-1000 (TDD: 884-5100).
También está disponible un videotutorial en línea para familiarizar a los usuarios con el funcionamiento de la plataforma. Los enlaces para descargar la aplicación Sun Van y ver el tutorial están publicados en: suntran.com/sunvan.
Sun Van brinda servicios de transporte para personas que no pueden viajar en Sun Tran debido a su discapacidad y que la oficina de elegibilidad de paratránsito de la ADA determina que son elegibles. Actualmente, los viajes son gratuitos hasta el 30 de junio de 2022. El número de pasajeros de Sun Van fue de 287,460 en el año fiscal 2021.