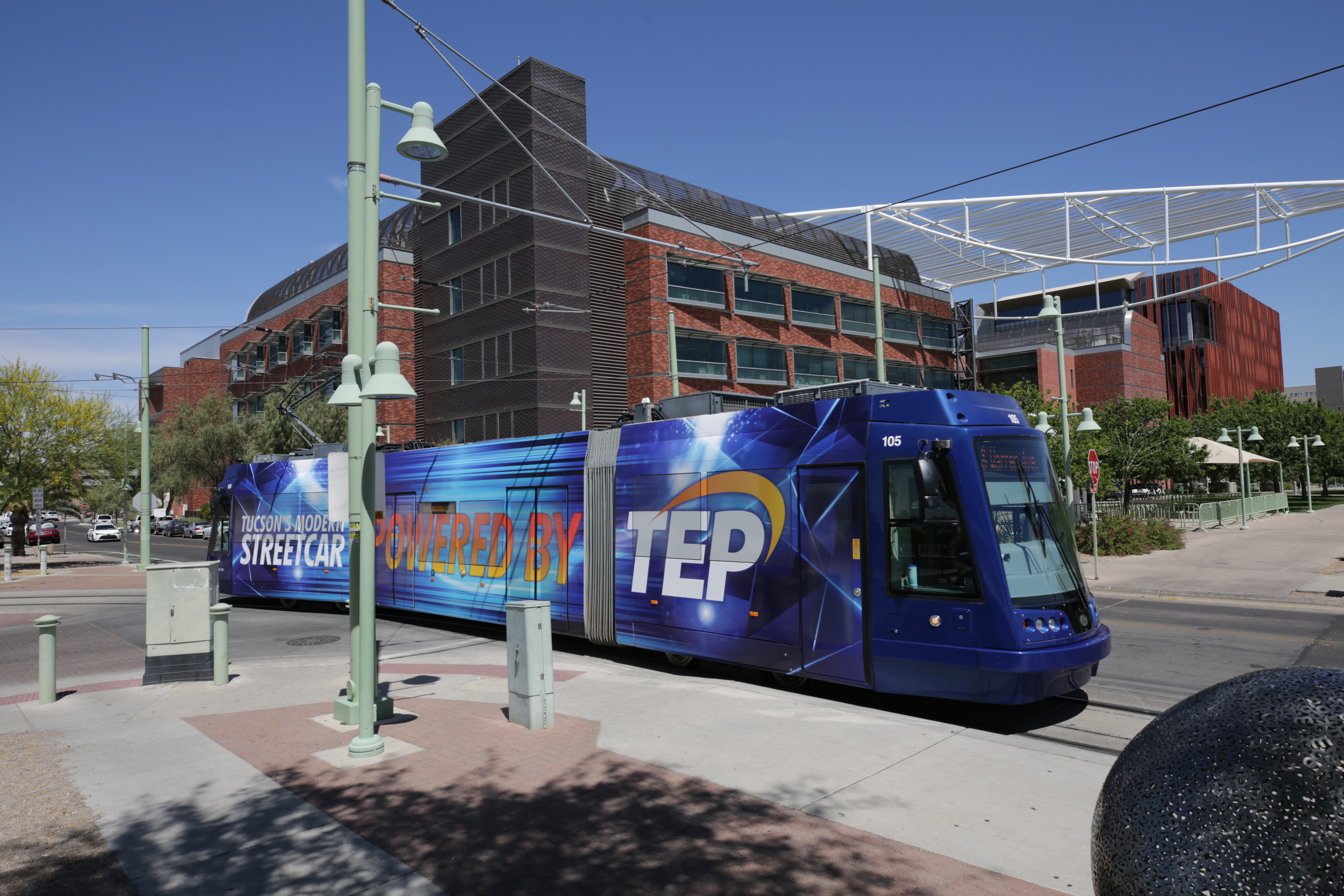 Ride Sun Link
Sun Tran, Sun Link, Sun Van, Sun On Demand, Sun Express and Sun Shuttle rides continue to remain fare free at the direction of the Mayor and Council.
More than 100,000 people live and work within a half-mile of the streetcar route. It takes approximately 30 minutes to go from one end of the route to the other.
Explore Tucson
Tucson's Sun Link Streetcar connects five unique districts– Downtown, Mercado San Agustín, Fourth Avenue, Main Gate Square and the University of Arizona. The 3.9 mile route has 23 stops adorned with public art. 350 days of sunshine, home of the Gem & Mineral Show, 4th Ave Street Fair, The University of Arizona and UNESCO's City of Gastronomy, you can pick up the streetcar to get you within walking distance of hundreds of Tucson's most iconic restaurants, museums, shops and entertainment venues to new and historic residential neighborhoods. Leave the driving to us!
History & Benefits
100,000 people live and work within a half mile of the route.
Sun Link has improved transit service, adding service frequency, hours and capacity.
Sun Link is integrated with Sun Tran bus route and the UA's Cat Tran system.
The Sun Link-Sun Tran system has one easy to use, card swipe fare system.
Economic Investment
The Sun Link Tucson Streetcar was our city's largest construction project ever and it has already made positive impacts:
Over 1,200 construction jobs created
1500 + new housing units
50+ new restaurants, bars & cafes along the route
$63 million+ in streetcar federal funds
Over $1 Billion invested from the private sector to-date along the route
8 "Made in America" streetcar vehicles
Job Creation
Creating Design & Construction Jobs
​​​​​​​​​​​​​​​​​​​​​​​​​​​​​​​​​​​The City of Tucson estimated that 1,200 new jobs were created as a direct result of Sun Link construction. An additional 1,650 related jobs in over 19 industries were created as a result of construction activities, and 1,500 long-term regional jobs were created as a results of the streetcar.
Made in America
Tucson's modern streetcar vehicles were the first order of vehicles manufactured in the United States in nearly 60 years.
New Development & Revitalization
Since its launch in 2014, the Sun Link streetcar has triggered over $1 billion of private investment, which as funded new retail, office and residential development and redevelopment along the streetcar corridor. Ninety new restaurants, bars and cafes, and retail businesses have popped up along the route over the last 3 years. Additionally, there has been significant housing, retail and corporate business expansions within the Sun Link route.
Mixed-use housing developments
44 Broadway
One East Broadway
One West Broadway
Student housing complexes:
The Cadence
The District on 5th
Sol y Luna
The Junction at Iron Horse
Hub at Tucson, Hub II, Hub at Speedway
Aspire Tucson
The Mark
Herbert Residential
Residential housing developments
West End Station
The Westerner & Westpoint Apartments
Downtown Motor Apartments
McCormick Apartments
Coronado Hotel Apartments
7th Avenue Commons
Retail Businesses
Mercado San Agustin Annex
City Park – to be completed in October 2019
The Boxyard on 4th
Corporate Businesses
Caterpillar Surface Mining & Technology Division
Hexagon Mining Company
UniSource Energy
Providence Service Corporation
Green Operations
The all-electric streetcars help reduce air pollution and greenhouse gas emissions. The capacity of one streetcar vehicle is approximately 148 passengers. Riding the Sun Link reduces trips by single occupant vehicles, thus reducing congestion, pollution and the need for additional parking.
The streetcar system has inspired transit oriented development and encourages people to walk and ride to more of their favorite destinations, rather than driving. Additionally, each streetcar vehicle is bicycle friendly so people can bring their bikes as well.
The Sun Link Operations & Maintenance Facility is a LEED (Leadership in Energy and Environmental Design) Silver certified building. LEED projects are certified by the United States Green Building Council and demonstrate leadership, innovation, environmental stewardship and social responsibility, and are designed to:
Lower operating costs and increase asset value
Reduce waste sent to landfills
Conserve energy and water
Be healthier and safer for occupants
Reduce harmful greenhouse gas emissions
Planning
The Sun Link streetcar system, launched in July 2014, is funded as part of theRegional Transportation Authority's 20-year voter approved plan and tax, effective through June 2026. Vehicles and construction costs were funded by the RTA, federal grant and local funds. The RTA continues to contribute to operating costs.

In addition to funding transit services, the 2006 RTA plan also funds new bike lanes and paths, sidewalks and greenways to provide alternative transportation choices across the greater Tucson region.