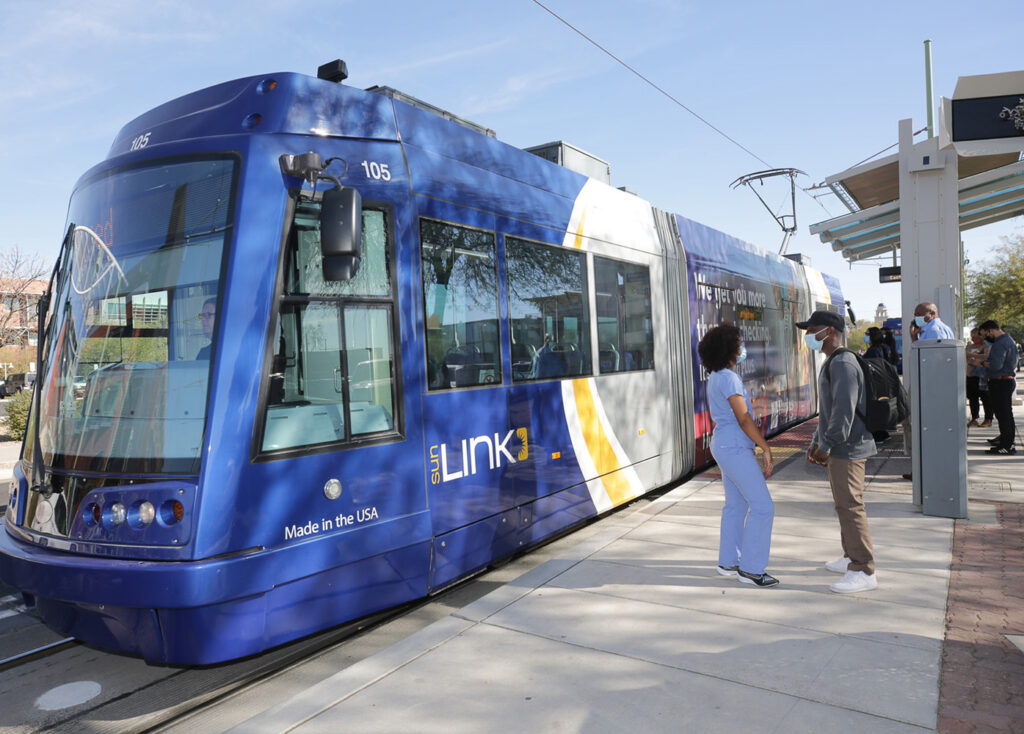 Get Around the Region with Ease
Sun Tran, Sun Express, Sun Link, Sun Van, Sun On Demand and Sun Shuttle make up the seamless transit system in Tucson and surrounding areas. Passengers can transfer between the various transit systems using a SunGO card. The Regional Transportation Authority(RTA) funds additional evening, weekend and express bus services; in addition to a streetcar service, a neighborhood circulator bus system, park-and-ride transit centers as well as special needs transit for the elderly and people with disabilities.. Sun Tran, Sun Express and Sun Link systems are managed by the City of Tucson. For more information on RTA funded projects please visit rtamobility.com.
Our Transit Services
Sun Tran
Sun Tran operates 29 regular fixed routes with daily service in Tucson, South Tucson, the Tohono O'Odham Nation, Pasqua Yaqui Tribe and Pima County.
Sun Express
Sun Express is fast commuter transportation that makes limited stops from outlying area to major destinations. With 12 routes, Sun Express operates weekdays during peak commute hours.
Sun Link
The Sun Link streetcar is  3.9-mile loop with 23 stops that serve the San Augustin Mercado District, Downtown Tucson, 4th Avenue, Main Gate Square and the University of Arizona.
Sun Van
(520) 791 5409
Paratransit service to ADA eligible residents in Tucson, Tohono O'Odham Nation, Paqua Yaqui Tribe, South Tucson and parts of Pima County. Sun Van service is available to persons with disabilities and certified paratransit eligible by the ADA Paratransit Eligibility Office.
For more information about eligibility please call 520-791-5409 (TDD 791-5452).
Sun On Demand
(520) 798 1000
Sun ON Demand provides curb to curb rides for individuals traveling within the designated zones. Riders can reserve their ride up to 7 days in advance in some cases same day service may be available. Sun On Demand connects riders to a Sun tran bus stop just outside the designated Zones and Sun Link Streetcar. To reserve a Ride Call 520-798-1000.
Sun Shuttle
Sun Shuttle operates 12 neighborhood circulator routes in OroValley, Catalina, Marana, Sahuarita, Green Valley, Tucson Estates, San Xavier, Rita Ranch and Ajo-Tucson with connections to Sun Tran routes. In Green Valley and Oro Valley Sun Shuttle offers curb to curb dial-a-ride service to all residents. The RTA contracts with Total Ride to operate the service.
Sun Shuttle Dial-A-Ride
Sun Shuttle Dial-a-Ride provides curb to curb paratransit service to persons with disabilities living outside Tucson city limits including Green Valley and Oro Valley or City of Tucson residents needing to reach destinations outside city limits. This RTA contracts with Total Ride to operate this service.
Ajo-Tucson Sun Shuttle Service
Transportation option to easily travel around Ajo or connect to Sun Tranor Sun Link streetcar in Tucson.  The RTA contracts with Ajo Transportation to operate this service.
RATP Dev USA, a national leader in public transit, announced it has renewed their contract with the City of Tucson to continue providing transit management services for the Sun Tran Fixed Route Bus, Sun Van ADA Paratransit, and Sun Link Streetcar systems. RATP Dev USA has been the provider of transit management services for the City of Tucson since 2013.