You gotta know it, it's ELECTRIC!
October 14, 2021
There was no missing it; a 40-foot bus secured to a flatbed trailer, waiting at the gate. When the security arm stood at attention, the tow truck slowly rumbled into Sun Tran's north yard. Pulling around to the maintenance shop, the truck driver got to work unchaining tires, adjusting mirrors and ever so gently, inching the whisper-quiet bus off the trailer bed. Excitement thickened as a group of employees gathered to watch and document the occasion. A previous delivery truck had already left and another was on the last leg of a roughly 850-mile haul. This delivery method was not the norm. Most GILLIGs are driven into Tucson. But the newest bus on the block was different, giving us all a peek into the future. The all-electric, zero-emissions big boy and his four brothers are already making a mark in the community.
"The introduction of electric buses in Tucson is a step toward a cleaner environment and a sustainable energy future," said RATP Dev USA CEO Arnaud Legrand. "Your creativity to assemble this cooperative venture, and your willingness to embrace cutting edge technology are examples of the values of the Tucson community."
In the days after the delivery, more buzz surrounded the battery-electric buses. All five were subjected to multiple inspections, road tests and a variety of equipment installations, like bicycle racks. Mechanics and drivers attended important training sessions. The battery-electric Low Floor Plus buses have some key difference to their bio-diesel or CNG-powered counterparts. Electric vehicles thrive in stop-and-go traffic, thanks in part to regenerative braking. When mechanics tinker around, they discover a Cummins battery where the gas tank is positioned on other buses. Two more are in the powertrain compartment and three batteries are located on the roof. A test port at the rear of the bus allows technicians to check that power has been successfully disconnected prior to maintenance or repair work. Another important component is a cooling system used to regulate battery temperature, a must in the desert heat. Instead of a gas cap, you will find two charging ports on the electric buses.
Out in the bus yard, a concrete area sheltered by solar panels is sectioned off for the Siemens charging stations. In true pandemic-era fashion, a back-ordered part is holding the construction project hostage. Nevertheless, plans for a party began to take shape. On September 30, 2021, Sun Tran welcomed members of the public, city officials and community partners to celebrate the battery-electric fleet and enjoy a ride on the new buses.
"Since 2005, Sun Tran has chosen GILLIG to provide clean-energy transit for their communities," said Bill Fay, GILLIG Vice President of Sales. "We're proud to provide these new zero-emission buses. They're going to provide exceptional performance and environmentally friendly public transportation that's reliable, safe and quiet in operation."
While other buses let out a distinctive rumble, drivers cannot solely rely on their ears when hitting the ignition switch on an electric model. An indicator lets the driver know when the bus engine is actually running. Instead of a fuel tank gauge, a warning light will illuminate on the dashboard monitor when the bus reaches 10% remaining battery life. The vehicles also feature a hill hold aid, which prevents roll-back after stopping on an incline.
"Sun Tran is excited to introduce electric buses in the community," said Sun Tran General Manager Steve Spade. "These buses represent cutting edge technology in the transit industry focused on energy self-sufficiency and a cleaner environment."
As the launch party guests chattered about the new buses, many in attendance felt a sense of accomplishment. It took grant applications, planning and collaboration to get to this day. Sun Tran introduced an electric apparatus to Tucson in 2019, with the temporary addition of a battery-powered bus leased from GILLIG. The first of its kind to service a fixed bus route in the city, the vehicle was easy to spot with a red, white and blue wrapper. The Route 8 regular served as a project pilot as local decision-makers planned the next step. They had bigger plans than the one show-pony driving back and forth on Broadway. The ultimate goal: an eventual electrification of the entire fleet.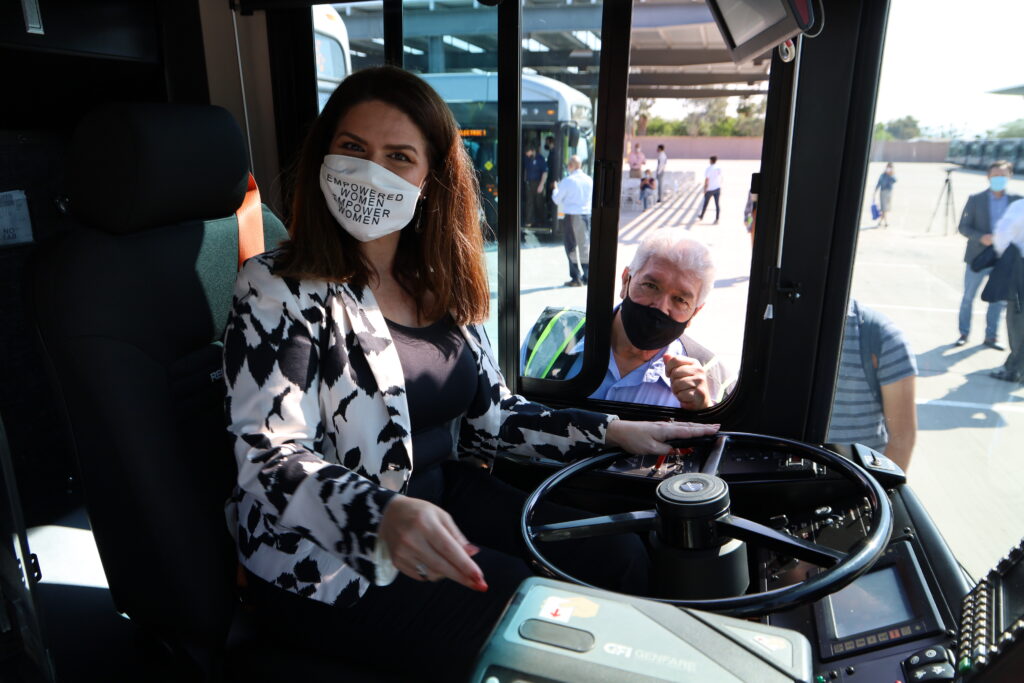 "Electrifying our city's vehicle and transit fleet is an important step to make our city more climate resilient," said Mayor Regina Romero. "Electric transit buses will benefit all members of our community and help reduce transit tailpipe emissions. These emissions are the primary cause of harmful ozone levels, an issue that disproportionally affects low-income families."
Tucson Electric Power (TEP) has also been a steadfast supporter of electric vehicle projects. The power company has a robust renewable energy portfolio and already advanced the Sun Link streetcar and an all-electric Sabino Canyon tram, to name a few investments. TEP also contributed to the purchase and installation of five charging stations that will be used for the new buses. The equipment is located at Sun Tran's north bus yard and can charge up to ten buses.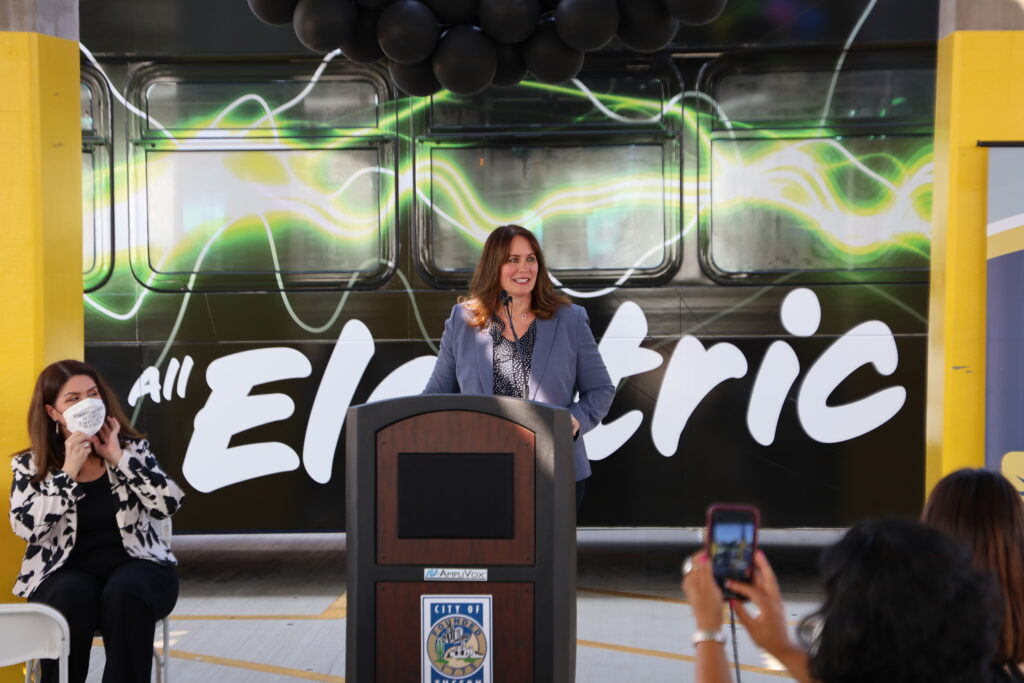 "At TEP, we like to say that we're energized about electric transportation. We're really proud to be part of leading the way to make this major shift in our community," said Susan Gray, the CEO of TEP. The [battery electric buses] will get greener every year, as we continue to add renewable resources to charge these buses. We've committed to reducing our carbon emissions by 80% by 2035."
Along with zero-emissions advantages, another big reason transit companies across the globe purchase electric vehicles includes cost benefits. Fuel savings and reduced maintenance costs over the lifetime of the bus can really add up. Research indicates that for every 1,000 electric buses on the road, 500 barrels of diesel are saved per day. Sun Tran's new buses cost $911,000 each and were funded as part of the Federal Transit Administration (FTA) Low No Emissions Grant Program.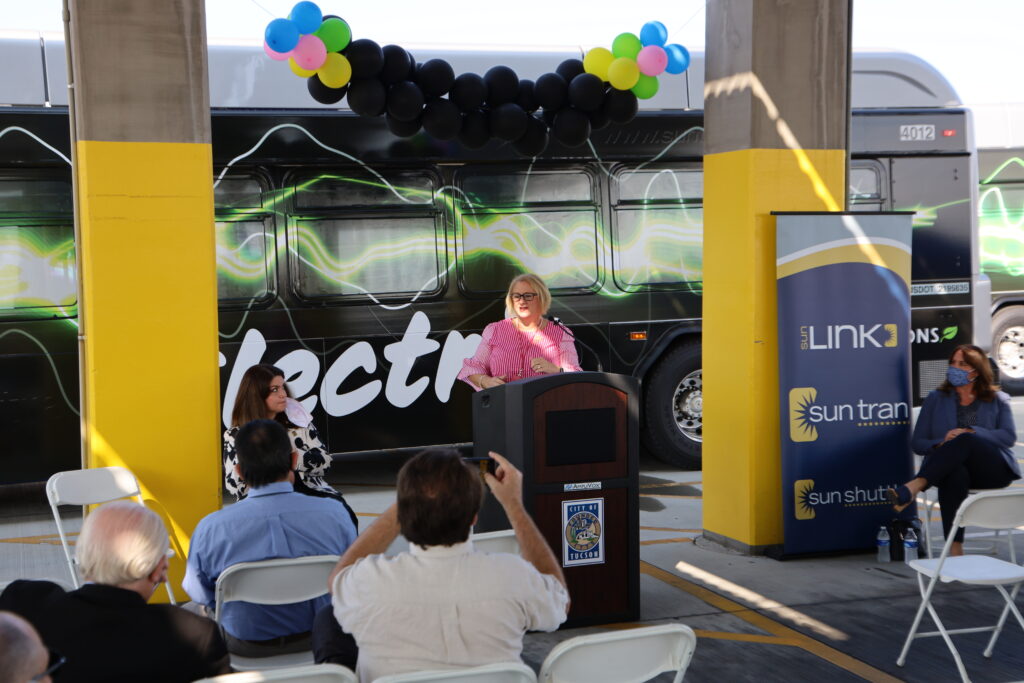 "We're also very pleased and appreciate the support we're getting from FTA Region 9, helping us move our electrification initiatives forward and reaching that goal of being carbon neutral by 2035," said the City of Tucson Department of Transportation and Mobility Director Diana Alarcon. "This is an exciting moment and look for [more] great things to come."
Sun Tran is the first transit company in Arizona to launch fully electric buses. Reports from early this year indicate that between 650 to 1,000 electric buses are currently in service in the United States. Globally, China boasts the largest number of electric buses in use, close to 600,000. Colombia and the United Kingdom are each estimated to have around 1,000 electric buses in service, with orders expected to greatly increase their number in the next few years.
"Sun Tran is committed to building a sustainable fleet that contributes to a cleaner environment," said Spade. "Currently Sun Tran purchases both CNG and battery electric buses. Based on the current fleet carbon neutral plan, all-diesel buses will be replaced with either CNG or electric by 2028."
Sun Tran is placing the five battery-electric buses in service this fall. Five more are already on order with GILLIG and will join the fleet in 2022.