Sun Tran announces April Open House Hiring Events
April 6, 2021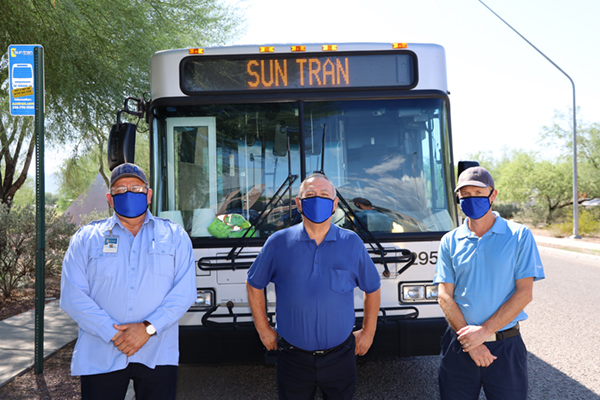 Stop by Sun Tran's Open House to learn more about exciting career opportunities
TUCSON – Sun Tran is adding to its family of coach operators. Candidates wanting to join the team can stop by one or both open house hiring events in April. We are currently hiring drivers for our 40-foot transit buses and Sun Van operators for our paratransit service. At the open house, candidates can get information on becoming a coach operator, submit an application and participate in on-site interviews. Applicants should bring an ID.
The full-time positions include competitive pay with a recent wage increase to reflect the City of Tucson's $15 minimum wage policy for transit employees. Coach operators are also offered a robust benefits package with paid time off and $0 healthcare premiums for the employee and their dependents. A hiring bonus of $250 is being offered to applicants who already have a valid Commercial Driver's License (CDL). For those without a CDL, Sun Tran provides extensive behind-the-wheel training and helps trainees prepare and test for a CDL.
When: Wednesday, April 14, 2021 from 9 a.m. to 2 p.m.
Wednesday, April 28, 2021 from 9 a.m. to 2 p.m.
Where: Sun Tran Administrative Offices | 3920 N. Sun Tran Blvd.
*Near Prince & I-10. Take Bus Route 10 to Romero Rd. & Smoot Dr.
Job Fair Questions: (520) 206-8818
Coach Operator Overview:
Training pay: $13.20/hour | Starting salary is $15.00/hour | Top rate: $21.82/hour
Benefits include medical, dental and health insurance for employee and dependents. The monthly premium is paid for by the company at 100%. Pension, vacation, sick leave, paid holidays, annual uniform allowance, tuition reimbursement and additional benefits are also offered.
To get a head start on your application, print and complete this form: suntran.com/about_apply.php
Sun Tran anuncia Recepciones Públicas de contratación en abril
Visite las recepciones públicas de Sun Tran para obtener más información sobre las emocionantes oportunidades profesionales
TUCSON – Sun Tran aumenta a su familia de operadores de autobús. Los candidatos que deseen unirse al equipo pueden pasar por uno o ambas recepciones públicas de contratación en abril. Actualmente estamos contratando conductores para nuestros autobuses de tránsito de 40 pies y operadores de Sun Van para nuestro servicio de paratránsito. En las recepciones públicas, los candidatos pueden obtener información sobre cómo convertirse en un operador de autobús, enviar una solicitud y participar en entrevistas en el lugar. Los solicitantes deben traer una identificación.
Los puestos de tiempo completo incluyen un pago competitivo con un aumento salarial reciente para reflejar la política de salario mínimo de $15 de la Ciudad de Tucson para los empleados del transporte. A los operadores de autobús también se les ofrece un sólido paquete de beneficios con tiempo libre pagado y atención médica de $0 para el empleado y sus dependientes. Se ofrece un bono de contratación de $250 a los solicitantes que ya tengan una licencia de conducir comercial (CDL) válida. Para aquellos que no tienen una licencia de conducir comercial, Sun Tran ofrece una amplia capacitación detrás del volante y ayuda a los alumnos a prepararse y hacer pruebas para una licencia de conducir comercial.
Cuándo: Miércoles 14 de abril de 2021 de 9 a.m. a 2 p.m.
Miércoles 28, de abril de 2021 de 9 a.m. a 2 p.m.
Dónde: Oficinas administrativas de Sun Tran | 3920 N. Sun Tran Blvd.
*Cerca de Prince y la I-10. Tome la ruta de autobús 10 hasta Romero Rd. Y Smoot Dr.
Preguntas sobre la feria de empleo: (520) 206-8818
Descripción general del operador de autobús:
Pago por entrenamiento: $13.20/hora |El salario inicial es de $15.00/hora | Tarifa máxima: $21.82/hora
Los beneficios incluyen seguro médico, dental y de salud para empleados y dependientes. La prima mensual la paga la empresa al 100%. También se ofrecen pensiones, vacaciones, licencia por enfermedad, vacaciones pagadas, asignación anual uniforme, reembolso de matrícula y beneficios adicionales.
Para obtener una ventaja en su solicitud, imprima y complete este formulario: suntran.com/about_apply.php