Sun Link Showing UA Pride on Bear Down Fridays
October 8, 2021
Excerpt originally published at: maingatesquare.com
The iconic community pep rally Bear Down Fridays returned for a 15th season this fall. The free event brings together thousands of UA students, alumni, fans and Tucsonans on the Friday night before every home football game. Everyone is encouraged to bring their Wildcat pride and team colors as we cheer on Arizona Football!
Every pep rally begins at 6 p.m. starring the Pride of Arizona Marching Band, UA Poms, Twirlers and Guard, Wilbur and Wilma and UA Cheer. A variety of University of Arizona coaches and staff make guest appearances at each pep rally. Arrive early to enjoy food specials, happy hour pricing, giveaways, games, activities for all ages and discounts.
"Arizona Football has been known to inspire the best in Tucson. With 15 years of community spirit, Bear Down Fridays is a free event that helps unite the city with its flagship university. It will be fantastic to see the community after a year off due to the pandemic," says Kris Siuda, Event Coordinator at Marshall Foundation, "We remain mindful of the community's health and encourage everyone not yet vaccinated for COVID-19 to wear a mask, or to stop in for a convenient and easy vaccine at Main Gate Square's CVS Pharmacy."
Main Gate Square is located on University Boulevard between Euclid Avenue and Park Avenue on the east and west, and between 2nd Street and 4th Street on the north and south, and features over thirty restaurants and twenty-five retailers and salons. The location is also along the streetcar route. Not only do Sun Link employees prepare for increased ridership around the event, the streetcar is also featured in the procession.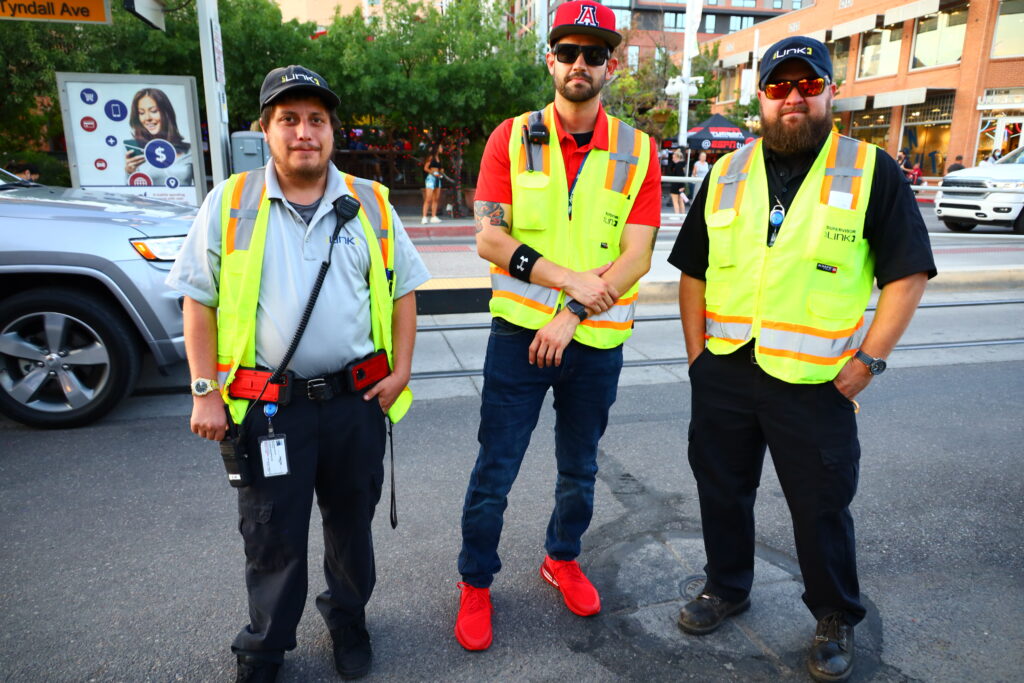 "Ahead of the parade we filter trains throughout the area to keep service going for the general public. We also stage one streetcar to be part of the procession," said Sun Link Lead Rail Supervisor Nelson Hall. "We actually get to tell the band director when it's time to start the parade."
Hall walks alongside the streetcar as the line of cheerleaders, band members and athletes march to the main stage. He ensures participants stay a safe distance from the streetcar. This is Hall's sixth season to help with Bear Down Fridays.
"The empty trains last year were depressing," said Hall. "Now that we have the public back out and we're moving people again, it just shows that Sun Link provides an important service. I feel valuable again."
For Streetcar Operator Luis Gonzalez, working the event is a first. He has been with Sun Link since October 2020 but is no stranger to UA spirit.
"My dad helped build the sky boxes at the stadium and I'd go to games with my grandpa," said Gonzalez. "There's a lot of great memories around Wildcat football season."
While Gonzalez is waiting for his turn to operate the streetcar used in the Bear Down Fridays parade, he's happy to do his part to provide service to the rest of the route. He thinks the tradition will continue to spark camaraderie in the community.
"Bear Down Fridays is a great benefit for Tucson in general. It's a good way to extend our hand to students," said Gonzalez. "I look at it as the students are our guests and we should welcome them into our community. Here at Sun Link, we make sure the streetcars are ready for our riders. As part of our community, we care about everyone's health and safety."
Four more Bear Down Fridays will take place at Main Gate Square this season. Ride the streetcar free, with service offered through 2 a.m. Parking is free in the Tyndall Garage after 4 p.m. on Bear Down Fridays with a merchant validation.  The Garage entrance is located at 4th Street & Euclid Avenue or on Tyndall Avenue & 4th Street. Visit beardownfridays.com ahead of each event to learn more about merchant specials.
Event: Bear Down Fridays 2021
Dates: October 8, 21 (Thursday), November 5, 12
Time: 4 p.m. to 7 p.m.
Place: Main Gate Square
On University Blvd. between Euclid & Park
Price: Free & Open to the Public
Parking:                              Free streetcar rides and free in the Tyndall Garage after 4 p.m. with a merchant validation.