Regional Transit Providers to Host Joint Job Fair
July 9, 2021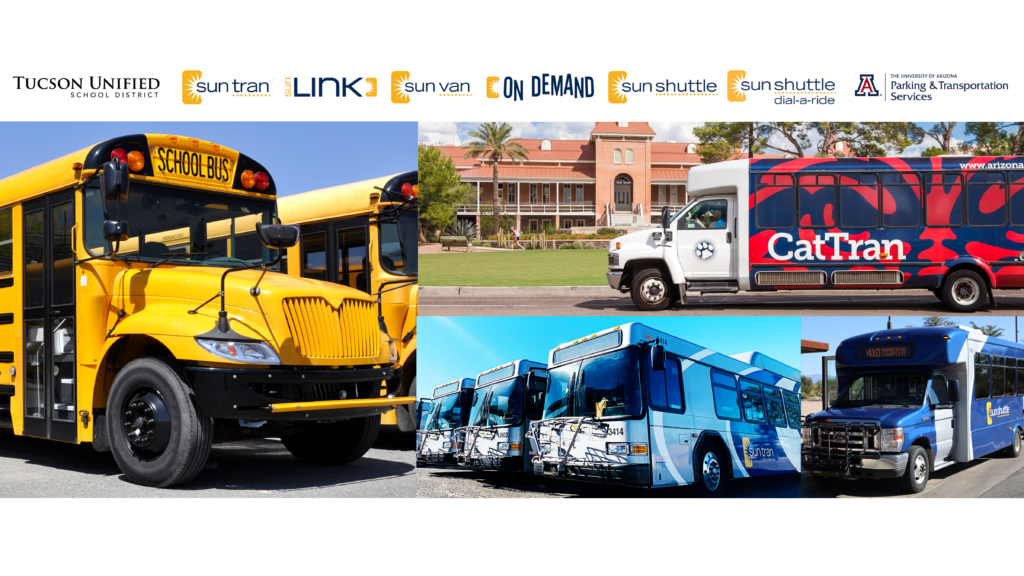 From golf cart shuttles to 40-foot buses, driver applicants are invited to find their fit at a regional transit job fair. The joint event includes driving opportunities with the University of Arizona Parking & Transportation Services, the Tucson Unified School District, Sun Shuttle, and the Sun Tran family of services. The pandemic affected many frontline workers, including transit drivers. Each organization participating in the job fair is seeking new hires to meet renewed ridership demand as our community recovers and as we approach the start of school.
"Everything we do is graded on the performance of our front line and our behind the scenes support. We heavily invest resources in employee recruitment and training because good employees are an asset," said Danny Palmer, an Operations Manager with National Express LLC, which operates Sun Shuttle.
Regional Transit Job Fair
Saturday, July 24
9 a.m. – 1 p.m.
Innovation Tech High School
3300 S Park Ave
At the job fair, attendees can explore vehicles from each transportation mode, learn about benefit packages, bonus programs, the hiring and training process, and fill out an application on the spot.
"The transportation industry needs dedicated drivers to ensure students, commuters, seniors and other neighbors have access to rides throughout Tucson," said Sun Tran General Manager Steve Spade. "Drivers make a difference in our community, learn valuable skills and build relationships that will last a lifetime."
Start your career reroute by trying transit! Many of the open positions do not require applicants to already have a valid commercial driver license. Attendees are encouraged to bring an ID and be prepared to fill out applications.
an una feria de trabajo juntos
Desde shuttles de carritos de golf hasta autobuses de 40 pies, se invita a los conductores solicitantes a encontrar su preferencia en una feria de trabajo de tránsito regional. El evento conjunto incluye oportunidades de conducir con los Servicios de Transporte y Estacionamiento de la Universidad de Arizona, el Distrito Escolar Unificado de Tucson, Sun Shuttle y la familia de servicios Sun Tran. La pandemia afectó a muchos trabajadores de primera línea, incluidos los conductores de tránsito. Cada organización que participa en la feria de empleo está buscando nuevas contrataciones para satisfacer la demanda renovada de pasajeros a medida que nuestra comunidad se recupera y nos acercamos al comienzo de la escuela.
"Todo lo que hacemos se califica según el desempeño de nuestra primera línea y nuestro apoyo detrás de las escenas. Invertimos mucho recursos en el reclutamiento y la capacitación de empleados porque los buenos empleados son valorados ", dijo Danny Palmer, gerente de operaciones de National Express LLC, que opera Sun Shuttle.
Feria de empleo de tránsito regional
Sábado 24 de julio | 9 a.m. — 1 p.m.
Innovation Tech High School | 3300 S Park Ave
En la feria de empleo, los asistentes pueden explorar vehículos de cada modo de transporte, conocer los paquetes de beneficios, los programas de bonificación, el proceso de contratación y capacitación, y completar una solicitud en el momento.
"La industria del transporte necesita conductores dedicados para garantizar que los estudiantes, los pasajeros, las personas mayores y otros vecinos tengan acceso a los paseos en todo Tucson", dijo el gerente general de Sun Tran, Steve Spade. "Los conductores marcan la diferencia en nuestra comunidad, aprenden habilidades valiosas y construyen relaciones que durarán toda la vida".
¡Empiece a cambiar la ruta de su carrera probando el tránsito! Muchas de las posiciones abiertas no requieren que los solicitantes ya tengan una licencia de conducir comercial válida. Se anima a los asistentes a que traigan una identificación y estén preparados para completar las solicitudes.