New Website Launch Offers Transit Service Info in One Place
July 13, 2021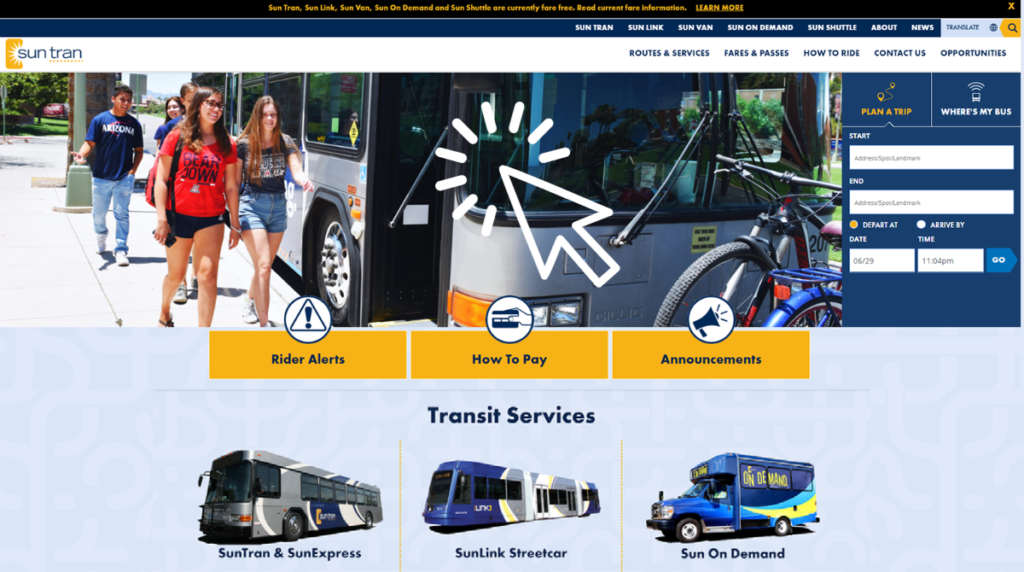 Users can look up service options, check route times and more, using one centralized website
TUCSON – Sun Tran is proud to unveil a complete website redesign, which consolidates Tucson area transit system information for a streamlined user experience. The new site will serve as the cyber home for Sun Tran, Sun Link, Sun Van, Sun On Demand and Sun Shuttle. The goal of the upgrade is to provide an easy to use, interconnected and reliable website for the community.
"Come check out our sleek new website," said Steve Spade, Sun Tran's General Manager. "It features a simplified, clutter-free interface where riders can easily plan trips across all of Tucson's public transportation services."
The project flipped three outdated websites with limited functionality into one state-of-the-art website that measures up to leading systems in the country. The new platform boasts a mobile-friendly interface and integrates voice technology for ADA accessibility and compliance. The website can also be translated into multiple languages per the user's preference.
When Tucsonans want to know if they can use transit to get to their destination, the website will serve up route maps and schedules, along with real-time bus and streetcar arrival times.
"We wanted a website that is clean, simple and accurate," said Spade. "Our riders rely on transit services to get to work, school and other daily activities. This new website ensures they will have real-time access to information on any internet-connected device."
Users can explore the new website by visiting suntran.com.
El lanzamiento de un nuevo sitio web ofrece información sobre el servicio de tránsito en un solo lugar
Los usuarios pueden buscar opciones de servicio, verificar tiempos de ruta y más, usando un sitio web centralizado
TUCSON – Sun Tran se enorgullece de presentar un rediseño completo del sitio web, que consolida la información del sistema de tránsito del área de Tucson para una experiencia de usuario optimizada. El nuevo sitio servirá como el hogar cibernético de Sun Tran, Sun Link, Sun Van, Sun On Demand y Sun Shuttle. El objetivo de la actualización es proporcionar un sitio web fácil de usar, interconectado y confiable para la comunidad.
"Visite nuestro nuevo y elegante sitio web", dijo Steve Spade, gerente general de Sun Tran. "Cuenta con una interfaz simplificada y ordenada donde los pasajeros pueden planificar viajes fácilmente a través de todos los servicios de transporte público de Tucson".
El proyecto transformó tres sitios web obsoletos con funcionalidad limitada en un sitio web de última generación que está a la altura de los sistemas líderes en el país. La nueva plataforma cuenta con una interfaz compatible con dispositivos móviles e integra tecnología de voz para la accesibilidad y el cumplimiento de la ADA. El sitio web también se puede traducir a varios idiomas según las preferencias del usuario.
Cuando los tucsonenses quieran saber si pueden usar el transporte público para llegar a su destino, el sitio web ofrecerá mapas de rutas y horarios, junto con los tiempos de llegada de autobuses y tranvías en tiempo real.
"Queríamos un sitio web limpio, simple y preciso", dijo Spade. "Nuestros pasajeros dependen de los servicios de tránsito para ir al trabajo, la escuela y otras actividades diarias. Este nuevo sitio web garantiza que tendrán acceso en tiempo real a la información en cualquier dispositivo conectado a Internet ".
Los usuarios pueden explorar el nuevo sitio web visitando suntran.com.