New Transit Schedules and Routes for Sun Shuttle
November 13, 2023
The Regional Transportation Authority (RTA) and Sun Tran have made time and route adjustments to some Sun Shuttle neighborhood transit system routes in the greater Tucson area.
Shuttle, which is funded by the RTA as part of the 2006 voter-approved, 20-year regional transportation plan, provides neighborhood transit services to outlying communities and neighborhoods that allow riders to connect with mass transit services offered by Sun Tran, Sun Express and the Sun Link streetcar.
Sun Shuttle fixed-route services operate in Marana, Casa Adobes, Oro Valley/Catalina, Green Valley/Sahuarita, Tucson Estates, Drexel Heights, the San Xavier District, Rita Ranch and Ajo.
The service changes were made based on the ridership analysis conducted by the Pima Association of Governments (PAG) and Sun Tran. PAG, the region's metropolitan planning organization, manages the RTA. Public input on Sun Shuttle services gathered through surveys and at a series of open houses also contributed to the analysis.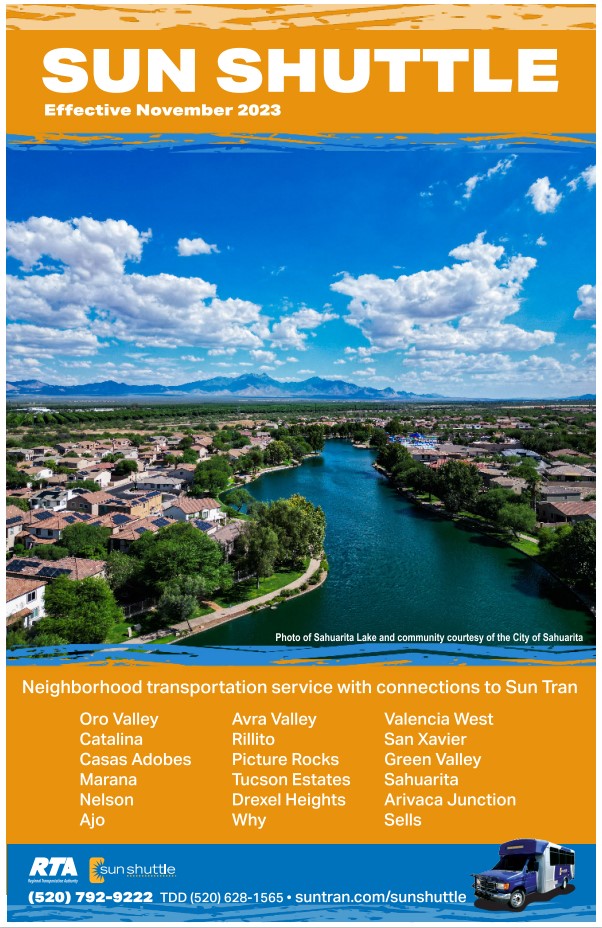 Service changes will go into effect on Monday. Nov. 27. The changed routes include:
Route 401 – Retimed schedule, Rooney Ranch stop moved to Oracle Road/First Avenue; northbound stop at Oracle Road/La Reserve Drive added to route; southbound stop at Oracle Road/Hanley Boulevard added to route.
Route 412 – Additional stops added at the intersection of Thornydale Road and Hardy Road and near the intersection of Thornydale Road and Costco Drive.
Route 413 – Retimed schedule, Interstate 10 segment has been rerouted between Downtown Marana and Tucson Premium Outlets; Rillito stop removed.
Route 414P – Picture Rocks pilot study concluded for this temporary route.
Route 430 – Retimed schedule, Western Way Circle stop moved to intersection of Kinney Road and Western Way.
Marana Avra Valley Dial-a-Ride – Rillito community now served by this service.
For complete details and Sun Shuttle route schedules, visit https://www.suntran.com/routes-services/sun-shuttle-routes/
The RTA funds additional evening, weekend and express bus services. RTA funds also go toward special needs transit for the elderly and people with disabilities, and park-and-ride transit centers.
---
The Regional Transportation Authority is the fiscal manager of a $2.1 billion, 20-year regional transportation plan and half-cent sales tax approved by Pima County voters on May 16, 2006. The RTA Board is comprised of representatives from the local jurisdictions in Pima County, including the cities of Tucson and South Tucson, Pima County, the towns of Marana, Oro Valley and Sahuarita, the Pascua Yaqui Tribe and the Tohono O'odham Nation. A representative of the Arizona State Transportation Board also serves on the board. For more information about the RTA plan, visit RTAmobility.com or call (520) 792-1093.