Meet Sun Van's "Aquaman"
September 2, 2022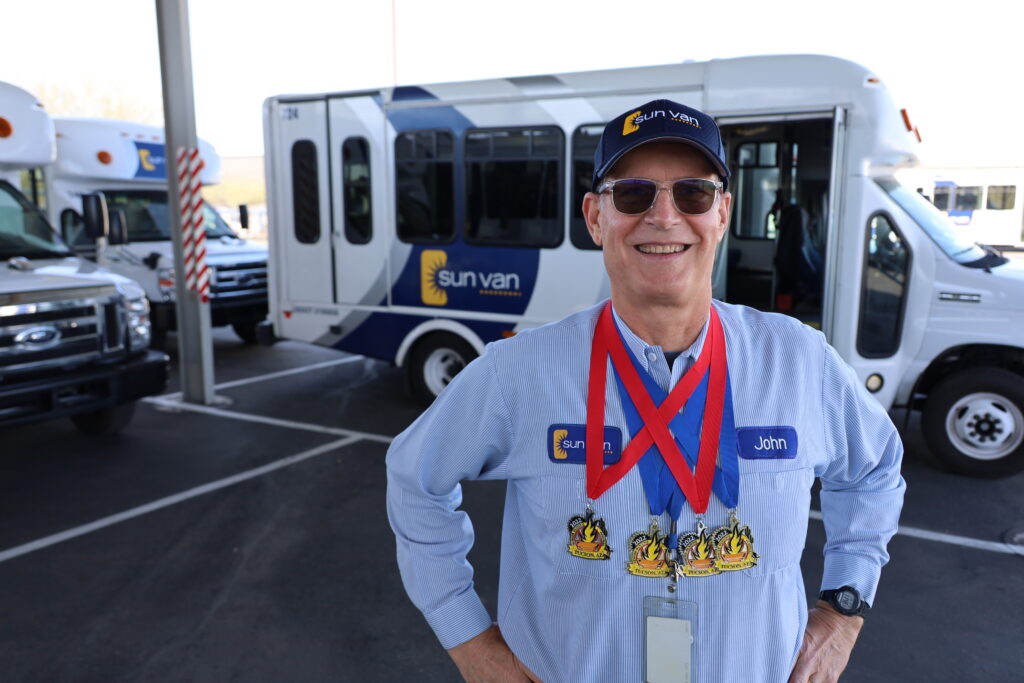 Shiny silver and gold medallions hang from bright red and blue ribbons around John Spicker's neck. His swimming medal collection is growing! The prizes are proof he has skill in the water. It is no wonder some coworkers fondly refer to him as Aquaman. 
His time in the water started when John was just 3-years-old. His whole family enjoyed swimming and would compete annually in a watermelon relay at their community pool. His family won the laughter-filled contest eight times. John seems to have taken that winning streak with him over his six decades on earth. This year John nabbed four medals at the Tucson Senior Olympic Festival.  
"I wish I knew about the competition sooner," said John. "The events are good motivation to stay in shape and practice at the pool. One thing I know is if you don't move it, you lose it. Swimming helps me stay active." 
He has been competing since 2017, the same year he joined Sun Van. Born at St. Mary's hospital here in Tucson, he often shares the personal story when driving Sun Van clients near the facility. He credits his family for getting him into swimming, along with creating a soft spot for our neighbors who need an extra hand.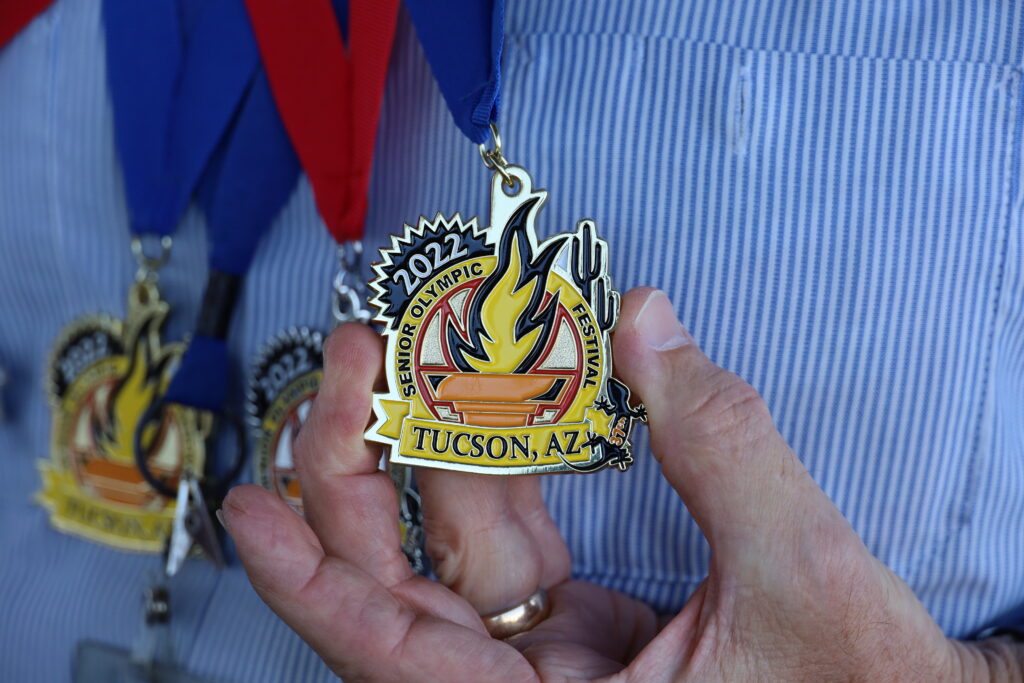 John became the main caregiver to his parents in their late years. A former Meals on Wheels delivery driver, John was looking for a job with flexibility so he would have time to take care of his parents. A hiring banner on Ajo was his sign to try Sun Van.
While his parents have now passed on, John says he is grateful for the time he had with them. He strives to show the same tenderness to his Sun Van clients now.
"I've worn a lot of different hats in my life, but the one thing that I try to keep the same is helping people with what I do."
Clients have taken notice. John received this compliment in June:
"He is always very polite and generous with assisting me. I feel privileged to use Sun Van and want to compliment John."
John says swimming helps him keep in shape and ready for his tasks at Sun Van. Driving for a paratransit company requires operators to maneuver vehicle lifts, assist with loading and unloading mobility devices, and using a strap system to secure them. Swimming helps John stay loose and strong for getting in and out of the vehicle, bending and reaching during his shift. 
"My inspiration is another swimmer who was 92-years-old and still going strong," said John. "I hope I can keep swimming and making a difference with my work for years to come." 
Along with swimming and driving for Sun Van, John enjoys spending time with his wife and 21-year-old son. He regularly swims at the Edith Ball Adaptive Recreation Center. The Tucson Senior Olympic Festival is a city-sponsored event and is typically held in January each year.