Tech Upgrades Boost Independence for Bus Riders Using a Mobility Device
June 28, 2022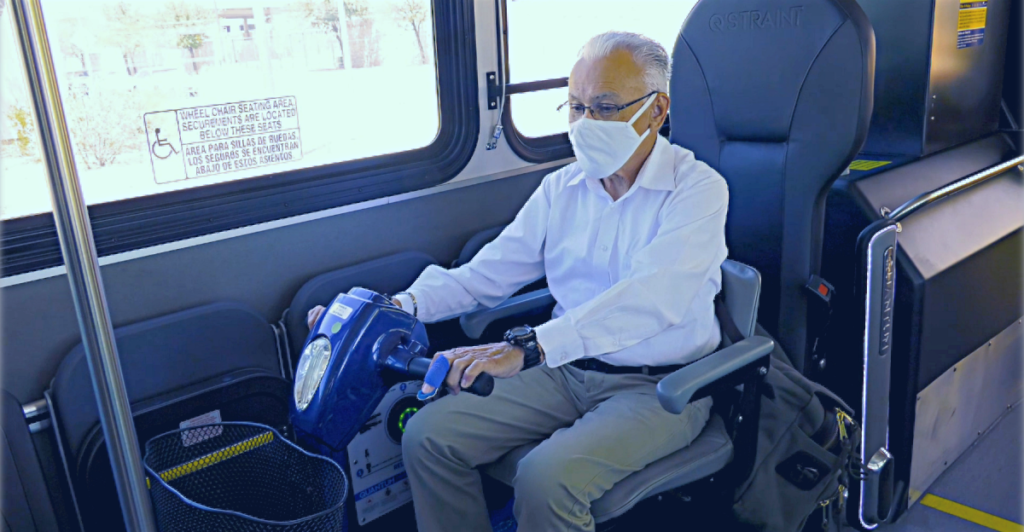 Riders using mobility devices can now enjoy an enhanced experience on Sun Tran buses. Quantum Automatic Securement Stations are currently available in 79 buses, or 40 percent of the active fleet. These new stations replace straps that were previously used to secure mobility devices. Now all it takes is the push of a button and a snap of the seat belt for riders to self-secure their wheelchair, scooter or other mobility device.
"This technology promotes independence among our riders with mobility devices who can now be in control of securing themselves," said Jeff Rock, Sun Tran Assistant General Manager. "It also benefits other riders because it shortens the boarding times at bus stops, allowing all riders to get where they need to go quickly and efficiently."
Riders using the technology are encouraged to provide feedback about their experience to help Sun Tran measure the impact of this upgrade. Researchers from the University of Arizona created a survey that riders can take online now through the end of September. The survey is offered in both English and Spanish and can be accessed at: SunTran.com/Quantum. A QR code with a direct link to the survey is available onboard buses.
The technology upgrade was set in motion by a grant from the Federal Transit Administration awarded in 2021. Along with a fare analysis study and the implementation of contactless solutions onboard buses, Sun Tran used part of the $600,000 grant to pay for 41 securement stations.
"Initially, we looked at the Quantum devices as a way to allow for social distancing at the height of the COVID-19 pandemic," said Rock. "Now we are discovering bonus benefits and the survey could uncover even more ways this technology is making life easier for members of our community."
The Quantum stations will come standard in all new buses Sun Tran acquires. Traditional strap securement areas remain available.
Las Actualizaciones Tecnológicas Aumentan la Independencia de los Pasajeros de Autobús que Usan un Dispositivo de Movilidad
Los pasajeros que usan dispositivos de movilidad ahora pueden disfrutar de una experiencia mejorada en los autobuses Sun Tran. Las estaciones de aseguramiento automático Quantum están actualmente disponibles en 79 autobuses, o el 40 por ciento de los autobuses activos. Estas nuevas estaciones reemplazan las correas que se usaban anteriormente para asegurar los dispositivos de movilidad. Ahora todo lo que se necesita es presionar un botón y asegurar el cinturón de seguridad para que los pasajeros aseguren su silla de ruedas, scooter u otro dispositivo de movilidad.
"Esta tecnología promueve la independencia entre nuestros pasajeros con dispositivos de movilidad que ahora pueden controlar su seguridad", dijo Jeff Rock, subgerente general de Sun Tran. "También beneficia a otros pasajeros porque acorta los tiempos de abordaje en las paradas de autobús, lo que permite que todos los pasajeros lleguen a donde necesitan ir de manera rápida y eficiente".
Se recomienda a los pasajeros que utilizan la tecnología a que brinden comentarios sobre su experiencia para ayudar a Sun Tran a medir el impacto de esta actualización. Investigadores de la Universidad de Arizona crearon una encuesta que los pasajeros pueden realizar en línea desde ahora hasta finales de septiembre. La encuesta se ofrece en inglés y español y se puede acceder a ella en: SunTran.com/Quantum. Un código QR con un enlace directo a la encuesta está disponible a bordo de los autobuses.
La actualización tecnológica se puso en marcha gracias a una subvención de la Administración Federal de Tránsito otorgada en 2021. Junto con un estudio de análisis de tarifas y la implementación de soluciones sin contacto a bordo de los autobuses, Sun Tran utilizó parte de la subvención de $600,000 para pagar 41 estaciones de seguridad.
"Inicialmente, consideramos los dispositivos Quantum como una forma de permitir el distanciamiento social en el punto álgido de la pandemia de COVID-19", dijo Rock. "Ahora estamos descubriendo beneficios adicionales y la encuesta podría descubrir aún más formas en que esta tecnología facilita la vida de los miembros de nuestra comunidad".
Las estaciones Quantum serán estándar en todos los nuevos autobuses que adquiera Sun Tran. Las áreas tradicionales de sujeción de la correa siguen estando disponibles.