Sun Tran
Keeping Riders Safe During COVID-19
From extra cleaning measures and route changes to mask requirements, Sun Tran is working hard to keep our riders and staff safe.
All fares currently waived through at least December 31, 2021.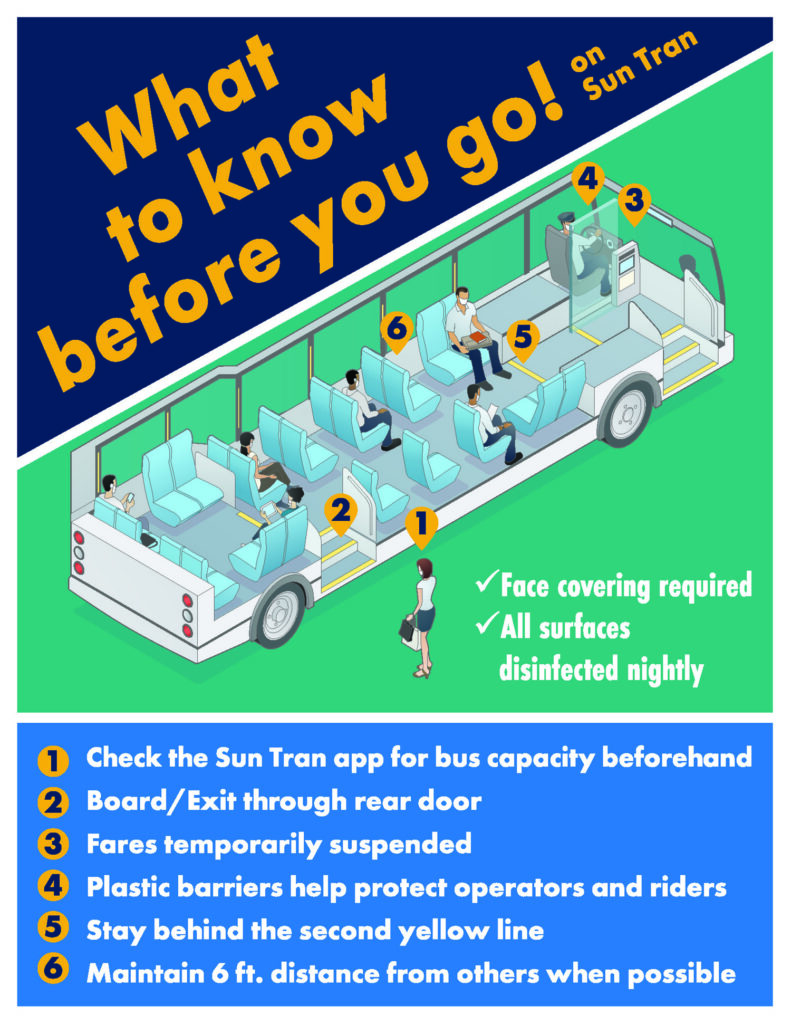 Preventing The Spread of COVID-19
All staff members and passengers are also encouraged to take the same steps recommended by the Center for Disease Control (CDC) to protect themselves and others from harmful germs, including
Wearing a face covering on buses, at stops, and at transit centers.
Washing your hands often with soap and water for at least 20 seconds
Avoiding touching your eyes, nose and mouth
Staying home if you are sick
Read below for more detailed instructions and information about the policy and procedure changes that Sun Tran is enforcing until further notice.
Policies & Procedures During COVID-19
Face Coverings Required
All passengers* are required to use a face covering or mask to ride Sun Tran, Sun Link, and Sun Van and at the transit centers. Sun Tran, Sun Link, and Sun Van have the right to refuse a ride to passengers not wearing a mask. Non-medical masks, cloths, bandanas and scarves cannot be used.
Social Distancing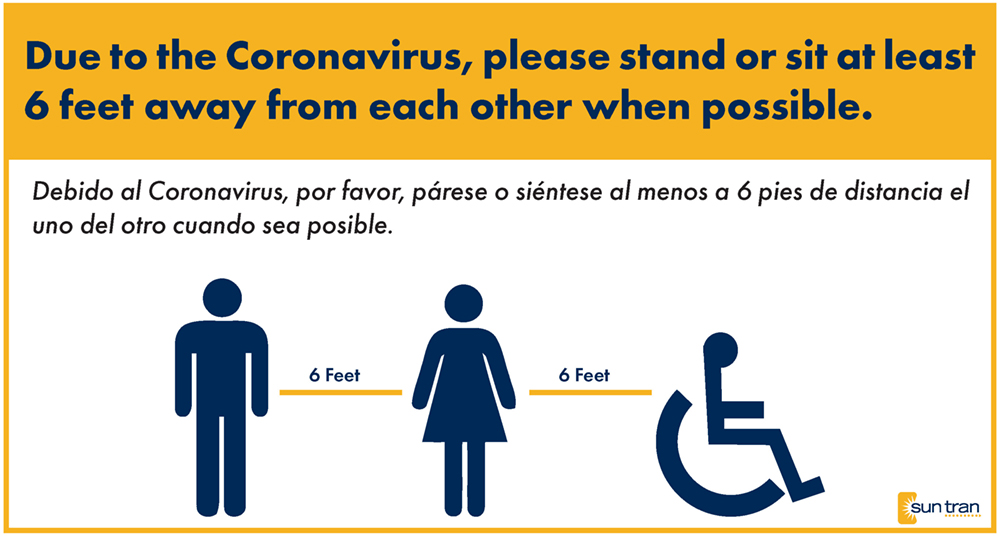 For the safety of our drivers, all riders, with the exception of persons with disabilities, will enter and exit the bus from the rear access door. A yellow line and rope have been placed behind the driver to help promote social distancing.
On the vehicles, Sun Tran and Sun Link passengers are asked to observe safe social distancing of at least six feet away from each other when possible.
Service Changes
Express routes 102X-110X have temporarily reduced service to one trip in the morning and one trip in the evening. Express routes 101X, 201X, 203X and 204X have re-added multiple trips. Other adjustments to to the scheduled operation of the Sun Tran family of services will be made as needed. Please check the our route listings for current scheduling information.
Fares & Sun GO
Fare Changes
All transit fares are waved through at least December 31, 2021.
Sun GO Cards
If you had an activated a pass on a Sun GO Card on March 21m 2929. Sun Tran has already loaded a new 30-Day Pass onto your card. You don't need to contact us. Just don't activate it until fares resume.
If you have a pass loaded on a Sun GO Card, but haven't activated it, no action is needed. The pass will remain on your Sun GO Card until it is activated on a farebox. The same is true for money loaded onto your card.
Facility & Fleet Cleaning Measures
Sun Tran, Sun Van and Sun Link are taking steps to help protect our workers and riders from the spread of COVID-19. We are currently taking the following actions to clean and disinfect vehicles and common areas:
Using an electrostatic fogging machine, we disinfect all vehicles with an industrial grade disinfectant every night.
Distributing hand sanitizer and disinfecting wipes to all drivers. Drivers can use the wipes to disinfect their work area during their shift as needed.
Installing hand sanitizer dispensers and hand washing stations at the transit centers.
Offices, Customer Service & Lost & Found
Contacting Our Offices
Sun Tran's Special Services Office is currently closed to the public. Call (520) 791-4100 to speak to a representative.
For Sun Tran, Sun Link and Sun Van, call (520) 792-9222.